Otter Class [Sven]
Sally: This month's Super Kid is Sven! He is such a kind and thoughtful student with a very big heart! He's enthusiastic about learning, always works hard, and does well in every subject. His reading skills are especially impressive! He always treats his classmates and teachers with respect and kindness. Sven is well-liked by everyone! Thanks for always being such a positive student and great role model for everyone in Otter class! Excellent job, Sven!
Angie: The Super Kid for the month of January is someone who has worked very hard on his English. He is always the first one when getting ready for class. He is very friendly with all of his classmates, and listens well in class. He always sings and likes to participate in class. His reading and writing abilities have also improved steadily. Keep up the great work, Sven.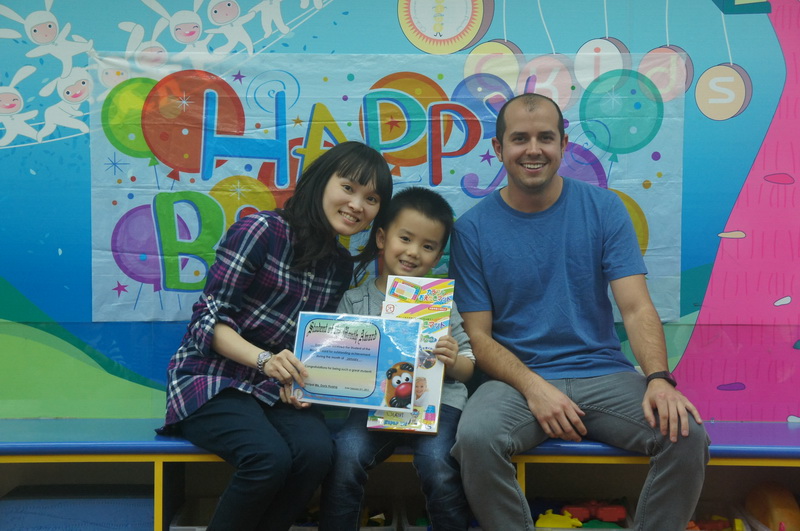 Beaver Class [Sunny]
Sandy: This Super Kid will be a big surprise as it is hard to have any improvement on her already hard working self. She is strong, loud, and clear. She always expresses herself and helps others every day, all day. Well done Sunny! Our class wouldn't be the same without you.
Richard: She likes to learn and always shows us how much she cares about learning. She helps teachers a lot. She tries everything very carefully and tries her best. She follows the rules when she plays games. She is nice and always shares her toys with her friends. They all like to play together. She is a good and sweet girl. Good job, Sunny!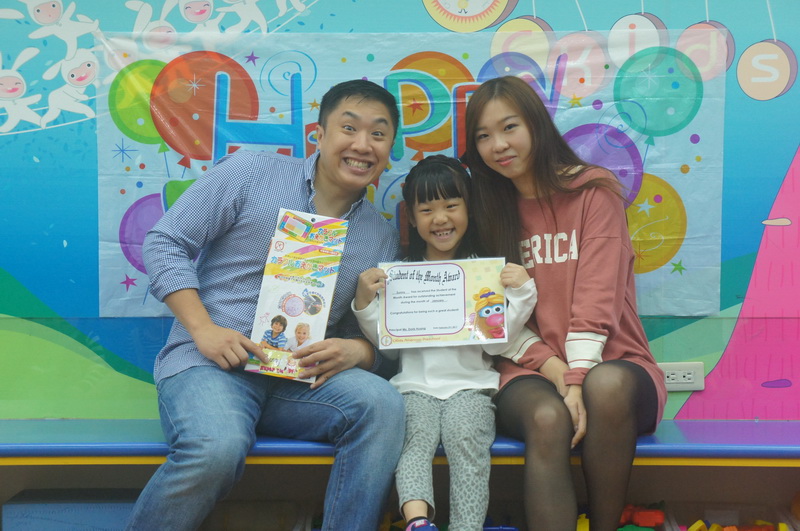 Chipmunk Class [Ariel]
Tiffany: Our Super Kid this month is Ariel. Ariel is very playful, sweet, and an excellent student. She is very smart and I appreciate that she is always paying attention in class. Ariel does a wonderful job of using her English to speak in school. She is always kind and respectful to her classmates and teachers. Way to go, Ariel.
Kelsey: This month our Super Kid is Ariel. Ariel is very smart and sweet. She is friendly to her classmates. She always hugs me and says "Good morning" every day. We chose Ariel to be Chipmunk class's Super Kid. Good job and keep it up, Ariel.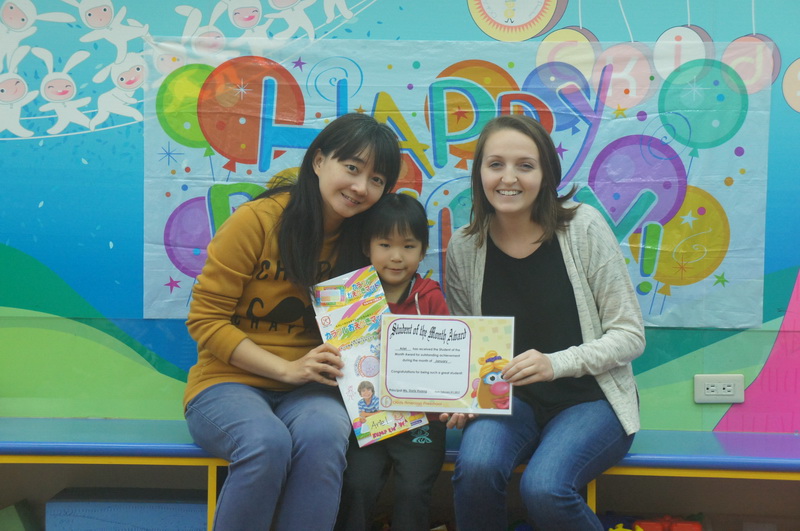 Dolphin Class [Sunny]
Kim: Our Super Kid this month is someone who's extremely positive and friendly in class. He always comes to school with a smile on his face and doesn't start fights with other students. Our Super Kid is Sunny.
Tyler: This Super Kid for January is Sunny. Sunny always displays good physical manners and verbal manners. He can share and take turns with others. He works and plays well with others, that's why he is well liked by his peers. I like Sunny's attitude in learning. He is overall happy and relaxed. He seldom does anything wrong, but when he does, he can accept advice. Sunny is super good this month. Good job!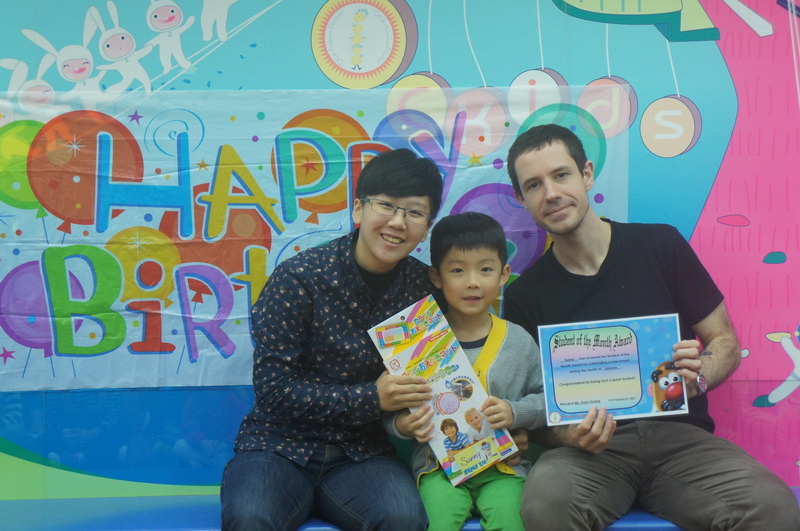 Puppy Class [Candy]
Sally: Our Super Kid this month is Candy. Her behavior is always perfect, and she is always doing what she is supposed to do. Her English and Math have improved a lot as well, and her conversation skills are amazing. Congratulations to Candy for being so super.
Zach: This month's Super Kid is Candy. Candy is perfect, behaved, and respectful to all teachers. The biggest change recently is Candy is starting to be funny in class. We are so glad that she opens her heart to join all of us. I also appreciate how helpful she is. She always helps me by volunteering.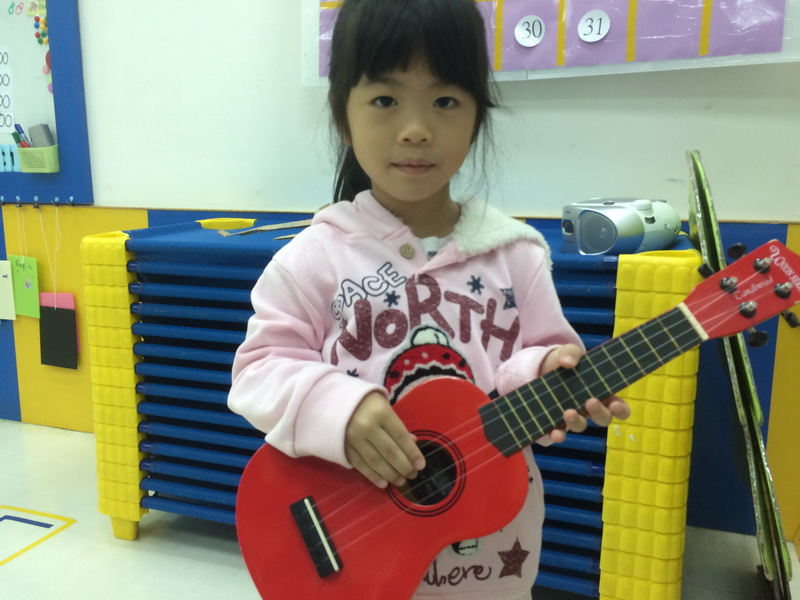 Chinchilla Class [Robyn]
Helen: Our Super Kid this month has turned a new leaf from the previous semester. He takes advice and guidance to heart, immediately putting changes into effect for the better. Our Super Kid has gone from being troublesome to being a helper and mentor. Although he can still be rowdy, he shows constant and consistent improvement that we can only be proud of. This month's Super Kid is Robyn.
Stephen: I highly nominate Robyn as our Super Kid this month in Chinchilla class. Robyn has made improvements these few months, whether regarding his learning attitude or his academics. He listens and follows in class; he motivates by helping those who are in need. He is such a good helper in Chinchilla. Congratulations Robyn! Keep it up!